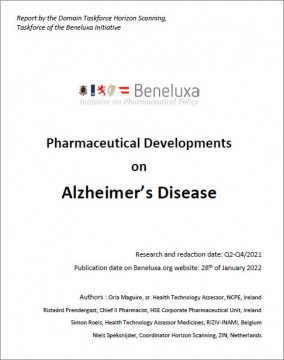 This report, by the Taskforce Horizon Scanning of the Beneluxa Initiative, describes the current situation of Alzheimer's disease and provides an overview of new pharmaceutical developments regarding this disease. 
The current treatment options are listed, as well as the available guidelines and an estimation of the current pharmaceutical costs for this disease in the Beneluxa countries.
The main focus of the report is on the new pharmaceuticals to enter the market between 2022 and 2027. The setup of the clinical trials, including the used biomarkers, are summarised. Also, the possible challenges, both on HTA level as on Health care level, are described.
With this report, Beneluxa aims to timely inform policy makers, healthcare organizations, payers and the general public on upcoming new pharmaceuticals and possible challenges.
For downloading the report, please click on the link below.