27 November 2019 - Cross-collaboration meeting on strategic decisions for pricing and reimbursement
On 27 November 2019, the Beneluxa Initiative hosted an exchange with 11 countries in Den Haag, The Netherlands. Representatives from Austria, Belgium, Canada, Denmark, Finland, Iceland, Ireland, The Netherlands, Norway, Scotland and Sweden discussed future opportunities for experts to interact beyond existing collaborations such as the Beneluxa Initiative and the Nordic Pharmaceutical Forum. 
The goal was to discuss solutions to ensure sustainable and equitable access to effective medicines. Topics spanned a variety of issues, such as the lack of evidence on the effectiveness of high-priced new medicines and the increasing pressure on pharmaceutical budgets. There was a general and fruitful exchange of thoughts on methodological approaches including willingness to pay.
 
16 May 2019 - Steering Committee of the Beneluxa Initiative (May 2019)
On May 15th 2019 the Steering Committee of the Beneluxa Initiative met to discuss the following topics:
The next steps for the International Horizon Scanning Initiative (IHSI)
Ongoing activities of the Beneluxa Initiative, among which selection of new candidates for joint HTA and potential joint negotiations
Strategic ways to move forward with the activities of the Beneluxa Initiative
The members of the Beneluxa Initiative highly value transparency as a key contributor to achieving sustainability of access to medicines. Transparency will assist in improving insight into the inner workings of the pharmaceutical value chain. We strongly support access to data generated by clinical research, including negative and inconclusive outcomes. We welcome a wide debate on these topics and further discussion at international level. The first concrete step should be to create price transparency among countries
05 March 2019 - Building an International Horizon Scanning Initiative
Horizon Scanning aims to highlight important pharmaceutical and medical technology innovations before they reach the market  by continuously gathering data and analyzing research and literature. 
This improves insight in expected costs and enables timely decision making and (joint) price negotiations.
The Beneluxa Initiative on Pharmaceutical Policy aims to seek successful ways of collaborating on pharmaceutical policy. One of its goals is to set up a systematic approach on horizon scanning for pharmaceutical products through IHSI. The IHSI is open to any interested country. Countries interested in participating in the IHSI can contact info@beneluxa.org. 
Open market consultation for Horizon Scanning
The open market consultation that took place end of 2018 aimed to inform companies and organisations that are active in this market regarding the upcoming public procurement procedure for the setting up of an international horizon scanning system (HSS) that will be initiated as a joint effort by the countries participating in the IHSI. The market consultation also aims to obtain market operators' input on the viability of the procurement design and conditions, before launching the call for tender, provisionally planned in the first quarter of 2019. 
The market consultation was open to all interested parties, regardless of their geographical location, size or governance structure of their organisation and was published on October 20th 2018 on the EU's Official Journal (TED). On November 12th 2018 a meeting was held in the Hague for interested parties. The presentation from this meeting can be found below. The market consultation ended on the 27th of November 2018. 
Results of open market consultation
The open market consultation has been concluded and the results can be found in the document below. The preparations for the tender launch are being made and interested parties will be informed as soon as more information can be made public on the tender procedure and timelines. 
Last update: 05 March 2019
18 February 2019 - General update (December 2018)
On 22 November 2018, the Steering Committee of the Beneluxa Initiative discussed in Vienna key topics concerning the collaboration in the areas of the horizon scanning (see also the current Open Market Consultation Announcement on "Building an International Horizon Scanning Initiative" and joint HTA reports. Other topics of discussion were transparency of negotiated results within the Initiative and strategic ways to move forward with the activities of the Initiative.
Last update: 18 February 2019
12 July 2018 - Positive outcome of joint reimbursement negotiations on Spinraza
Beneluxa Initiative partners Belgium and the Netherlands successfully negotiated the reimbursement of Spinraza
Belgium and the Netherlands have reached an agreement on the pricing of Spinraza, a drug for Spinal Muscular Atrophy (SMA). Spinraza will be reimbursed for specific groups of patients in both countries.
The aim of the Beneluxa Initiative is to enhance the access of patients to high quality and affordable treatment. The agreement on Spinraza is the first positive outcome of a joint negotiation of the Beneluxa Initiative. As a result of negotiations, which started in February of this year, Spinraza will be reimbursed in both countries under similar conditions. The joint process consisted of a joint Health Technology Assessment, followed by a joint price negotiation. 
Although previous pilots have proven that joint negotiations can be successful, this particular case is a great achievement that benefits patients in both countries. 
Ireland has recently joined the Beneluxa Initiave too. With several pilots ongoing, the aim is to expand future negotiations with other Beneluxa partners and to enhance efficiency by streamlining reimbursement processes in different countries.
Bruno Bruins: 'First and foremost, the positive outcome is wonderful news for the young SMA patients and their families, both in the Netherlands and Belgium. It is also a very clear and promising example of the benefits of working together on price negotiations and pharmaceutical policy. Biogen's willingness to engage in a joint process and discover the benefits of gaining swift access in several markets at the same time is a positive development. Therefore I hope more companies will follow this example.'
Maggie de Block: 'I am delighted to be able to make this orphan drug available to our SMA patients, barely one year after it received a marketing authorization. There was no treatment at all for these patients, but that is now changing. This means a giant step forward for these people and their families. At the same time, I am very proud of how we have tackled this. Today, we demonstrate that countries can jointly negotiate the reimbursement of orphan drugs to the benefit of their patients. This is a very important signal for everyone involved in Beneluxa and an extra motivation to further develop this international cooperation.'
For more specific details on the reimbursement of Spinraza in Belgium and the Netherlands, read the specific press releases:
Link Belgium
Link The Netherlands
Last update: 12 July 2018
22 June 2018 -  Ireland joins Beneluxa initiative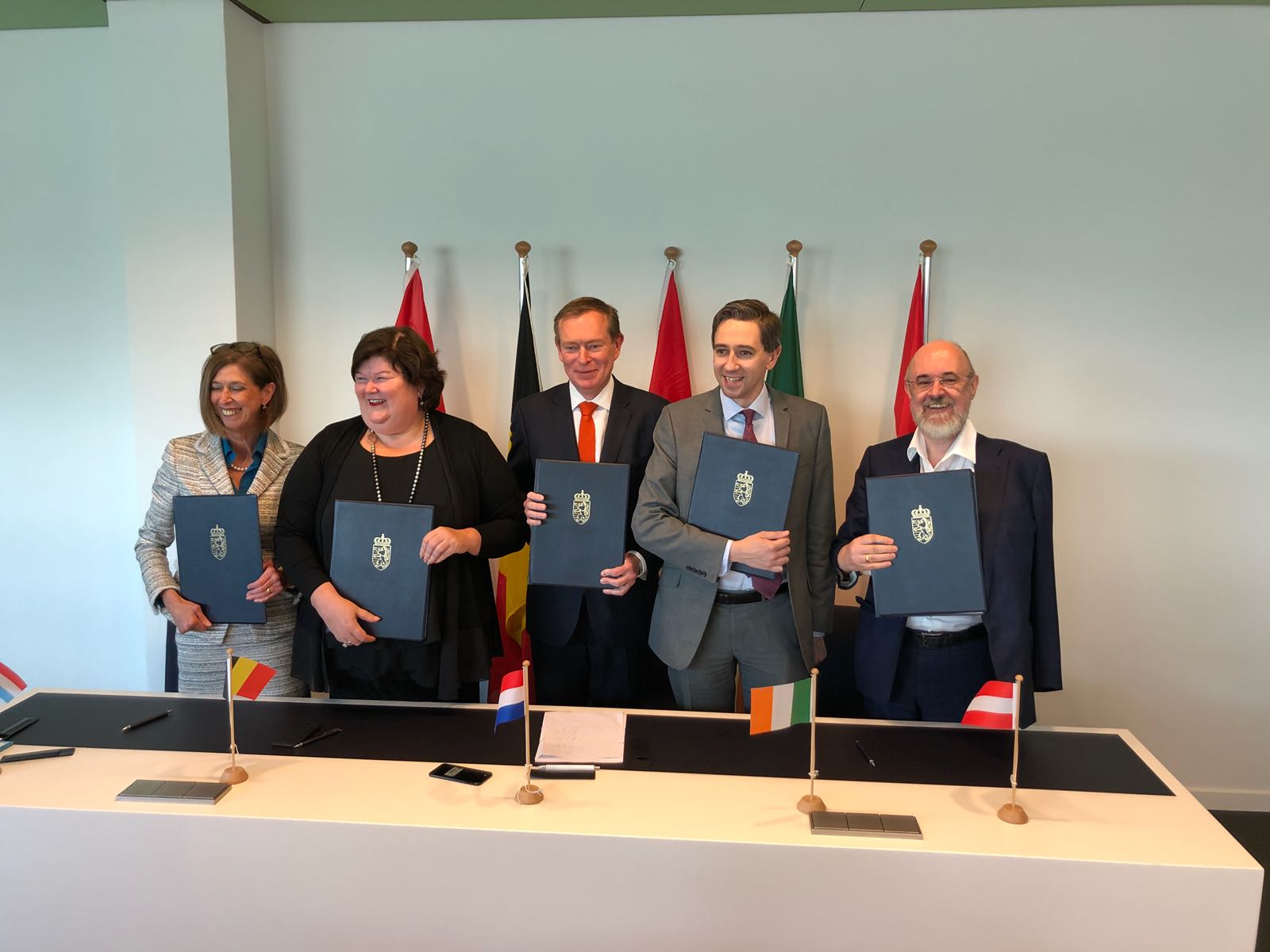 Today, the Irish Minister for Health, Simon Harris signed an Agreement with his colleagues from Belgium, The Netherlands, Luxembourg and Austria to join the Beneluxa Initiative on Pharmaceutical Policy. The ceremony took place during the Employment, Social Policy, Health and Consumer Affairs Council (EPSCO) in Luxembourg. Ireland is the fifth country to join the collaborative alliance on pharmaceutical policy.
Minister Harris stated: "I am pleased that my Ministerial colleagues from Austria, Belgium, The Netherlands and Luxembourg have enabled Ireland to join this exciting, international collaboration on drug pricing and supply.  I want the newest and most innovative medicines to be available in a timely manner to all our citizens. This collaboration will assist us in doing just that by ensuring that medicines can be sourced at a price that is affordable and sustainable in the context of the ever competing demands for resources rights across our health service". 
  
The BeNeLuxA Ministers responsible for pharmaceutical policy welcomed Ireland joining and participating in the collaboration. 
Dutch minister Bruno Bruins for Medical care said: "Ireland is a great addition to the Beneluxa family. All five countries face similar issues regarding  access and affordability to new and innovative medicines. By joining forces we improve our mutual position in price negotiations towards the pharmaceutical industry and we have a stronger voice at European level. In this way we can ensure that our patients can count on access to affordable, innovative medicines in the long term".
Belgian minister Maggie De Block of Social Affairs and Public Health said: "Four years ago, each country still worked on its own. Today,  we are five countries joining forces, our objective being to offer the best care possible, as soon as possible and in a sustainable way to  all our patients. I hope that other European countries will join us soon. Because the more patients we represent, the more our voice will be heard when discussing high-cost innovative medicines".
 
Luxembourg minister of Health Lydia Mutsch said: "We believe that information sharing and collaboration between countries will benefit policy initiatives on pricing and reimbursement of medicines. By working closely together, we can better negotiate medicine prices with the industry and request more transparency on the cost build-up of pharmaceutical products. Our aim is to ensure patients' fair and sustainable access to essential medicines."
Beneluxa achievements 
In 2015 the Beneluxa initiative was initiated aiming for sustainable access to, and appropriate use of, medicines in the participating countries. Together, the countries want to enhance patients' access to high quality and affordable pharmaceutical treatments. The cooperation is not limited to joint pricing negotiations. The coalition also works together closely on a horizon scanning, to explore which innovative – often extremely expensive – medicines are expected to reach the market in the near future. In addition, the Beneluxa partners conduct joint health technology assessments and share data and policies. The collaboration recently introduced the international horizon scanning initiative (IHSI), that goes beyond the current coalition of countries. Its goal is to build a permanent horizon scanning system that can support countries and institutions in policy planning and their decision making regarding the reimbursement of new pharmaceuticals. A wide group of countries is currently invested in developing the IHSI further.
More info on the Beneluxa initiative can be found on http://www.beneluxa.org/
Last update: 22 June 2018
24 May 2018 - Steering Commitee Meeting
On the 24th of May 2018, the Steering Committee of the Beneluxa Initiative met in Brussels. On the 25th of  May 2018, the Beneluxa General Assembly took place. A representative of Ireland, at the time in process of joining the Initiative, participated in the Steering Committee meeting.
The following topics were discussed:
1. updates on the on the Initiative's four Domain Task Forces:
2. Alternative business models to develop medicines (such as the Fair Medicines Initiative)
3. Austria's planned activities related to pharmaceutical policy under the upcoming EU Presidency
4. Developments concerning the reimbursement of pharmaceuticals in Europe
5. The Beneluxa Initiative has opened a twitter account to announce news and new content on the website. The Beneluxa Initiative twitter can be found at https://twitter.com/BeneluxaCoop.
 
18 January 2018 - Steering Commitee Meeting
The Steering Committee of the Beneluxa initiative met in Luxembourg on 18 January 2018.
Experiences with joint HTA reports and joint negotiations were assessed, and the planned activities for 2018 in the areas of HTA and pricing and reimbursement were discussed. Topics included a discussion of moving ahead with collaboration in the areas of Horizon Scanning and patient registries.
28 November 2017 - Orientation Meeting on Patient Registries
Policy makers and national patient registry experts from Beneluxa countries, Hungary and the United Kingdom met in Vienna on 28 November 2017 to explore a possible collaboration in the field of patient registries in order to increase efficiency, and enhance evidence generation and information sharing. 
The meeting aimed to identify the challenges and prerequisites for collaboration in the field of patient registries, and ways to move forward. As a supportive exercise, results of a preliminary mapping of patient registries in the member countries of the Beneluxa initiative were presented. As different types of registries exist, key learnings included the need for a clear definition of patient registries and scope in order to determine which type of registry would be appropriate for a potential pilot in the near future. Furthermore, technical and political challenges of a joint registry (e.g. interoperability of datasets, legal framework/collaboration agreements, as well as how necessary information can be collected) were identified. 
The Beneluxa partners will further explore a collaboration in the field of patient registries. 
11 November 2017
Information on the first results of actual joint HTA procedures are available here.
6 September 2017 - Website of the Beneluxa collaboration launched
The competent authorities of Belgium, the Netherlands, Luxembourg, and Austria have committed to cooperate in order to contribute towards the sustainable access to medicines in their countries.
Further information on the Beneluxa cooperation can be found on this website, which was launched on September 6, 2017.
27 June 2017 - Meeting on Joint Horizon Scanning
A meeting was organised in Brussels on 27 June 2017 to explore options for potential collaboration between authorities on Horizon Scanning - even beyond the Beneluxa countries.